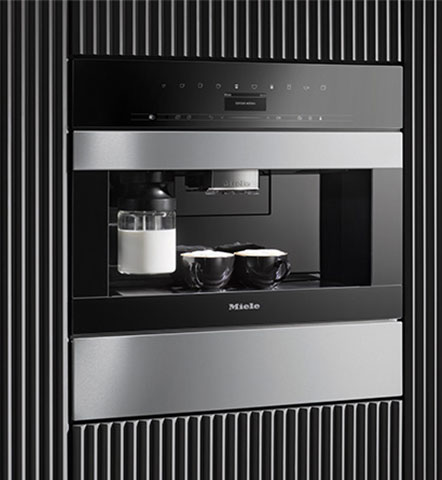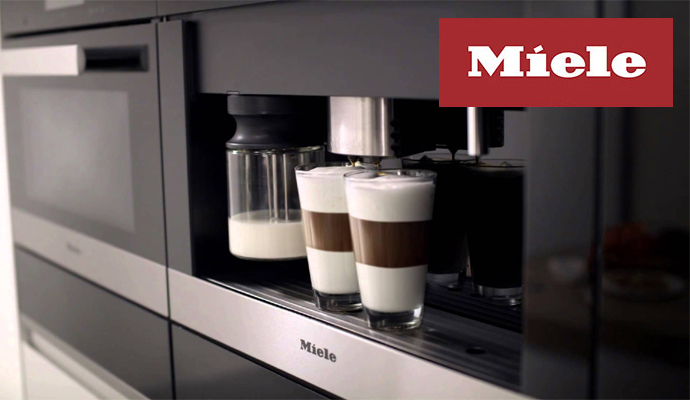 Miele make a wide range of Built-in coffee machines that can be integrated into your kitchen so whether you are looking for a bean-to cup system or a Nespresso system that uses capsules for convenience and quickness Miele has a machine for you. You can't beat the smell or taste of fresh coffee and with a Miele integrated coffee machine in your kitchen you can make that perfect cup of Espresso or Cappuccino at a press of the button.  Miele coffee machines have an Aromatic system whereby the brew chamber expands when water flows in. The ground coffee is mixed very thoroughly with the water and the coffee aroma can unfold even better. You can look forward to enjoying wonderfully aromatic coffee.
The ComfortDoor on Miele coffee machines give you convenient access to the removable water container as well as the drip tray and the waste container when you swing open the whole front. The EasyClick Milk System allows the milk jug to be easily snapped into place or removed. In addition to easier docking, the Generation 6000 coffee machines have another new feature: The milk flask is made from high-quality glass. In addition to easier cleaning, glass allows you to check how full the flask is.
---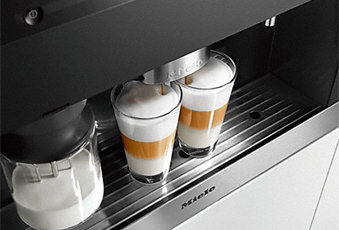 OneTouch and OneTouch for Two
All bean-to-cup coffee machines are equipped with the new OneTouch for Two function as well as with the already familiar OneTouch feature. This function allows you to make two delicious coffee specialities at the same time by simply touching a button. The programme starts automatically. Because preparation takes less time, you have more time together.