Miele Steam Ovens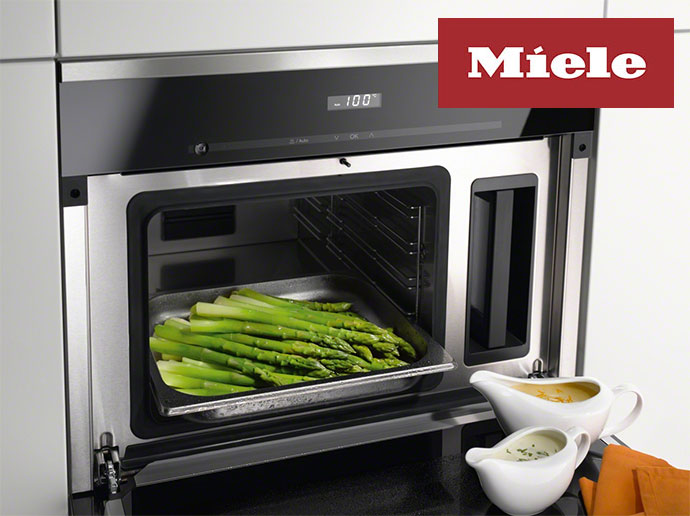 When you boil vegetables some of the vitamins and minerals are lost, Steaming ensures that vitamins such as vitamin B, riboflavin, thiamine, niacin, biotin, B12, pantothenic acid and vitamin C, as well as minerals such as calcium, zinc, phosphorous and potassium are retained. But the benefits of a steam oven does not stop there. You can make starters, soup, fish, meat, vegetables, side dishes or desserts separately - or an entire meal in a single cooking process.
With Miele steam ovens even the most demanding wishes can be individually fulfilled - firm or tender. The unique external steam generation in the form of Miele MultiSteam technology ensures perfect results. Eight steam inlet ports enable fast steam generation and distribution, short heat-up times and more uniform cooking results.
Miele combination steam ovens allow you to select a combination of steam and conventional heat with temperatures from 40°C to 225°C and moisture content between 0% to 100% offering maximum flexibility for best baking and roasting results.
Wireless food probe - Everything Cooker Perfectly
Customised and precise roasting of meat, fish and poultry by monitoring the core temperature incl. and the countdown indicator. With a countdown indicator there is no need to supervise the cooking process. The food probe is very easy to use. It is always to hand, It is always at hand, as it is stored in the oven door.
Automatic menu cooking
With automatic menu cooking you can combine up to three automatic programmes for different foods. Temperature, cooking times and sequence are automatically set. The appliance tells you when to put each item in the oven so that everything is ready at the same time. In this way you can cook a who meal without stress and with perfect timing.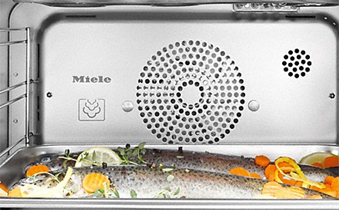 XL cabinet
Ample space for creativity: Miele's XL steam combination oven offers 48 l of usable space. allowing you to prepare complete menus for eight to ten people. Complete meals can be cooked at the same time and there is even sufficient space for larger items such as poultry and whole fish.