Miele Washing Machines

Miele washing machines offer the ultimate in wash performance and build quality. Miele machines are made in Germany using the highest quality materials and components and during the development stage are and made and tested to last for 5000 washes, that's the equivalent to 20 years of normal use.
The latest range of Miele washing machines have some excellent features so look out for PowerWash which gives excellent cleanliness in less than 1 hour and TwinDos hich gives you automatic detergent dispensing using the correct type and amount of detergent for the programme you have selected. Most Miele washing machines have a 5 year guarantee however the WDA201 has a 7 year guarantee and the WMB120 has a 10 year guarante
Why not call into one of our Oxfordshire stores in Oxford & Bicester to see our range of Miele Washing Machines. We offer fast FREE delivery throughout England & Wales and provide a full installation service. Our trained installers will take all the hassle out of replacing your old washing machine, we can even dispose of your old one for you. You can order online call in and see us or phone us on Oxford 372113 or Bicester 246617 for more advice
Automatic dispensing with TwinDos is not only practical, but also guarantees perfect cleanliness: with UltraPhase 1 and 2 your appliance offers the best liquid dispensing system. TwinDos dispenses UltraPhase 1 and 2 at the optimum time during the programme and thus achieves the very best wash results. TwinDos also dispenses with such precision that you can save up to 30 % on detergent when compared to manual dispensing.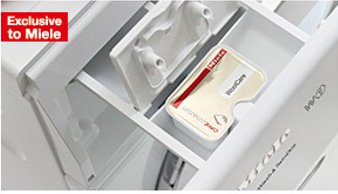 Items requiring special treatment can be dealt with conveniently using Miele CapDos portioned capsules. They are simply placed into the fabric conditioner compartment. The appliance dispenses the contents at the perfect point in the wash process - completely automatically. Your choice: 6 special detergents (Sport, Down, Outdoor, WoolCare, SilkCare, Proofing agent), 3 softeners (Aqua, Nature, Cocoon).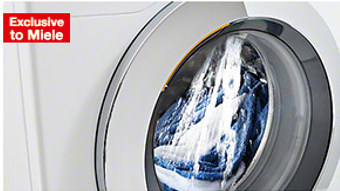 Miele appliances with PowerWash 2.0 wash up to 40% more efficiently than required for energy efficiency class A+++ - and they even clean small loads energy efficiently. The secret: The innovative Spin&Spray washing technology enables a very low water level to be used and thereby saves energy when heating up. And all this with good cleaning performance, excellent rinse results and moderate programme run times, even in the Cottons Eco programme.