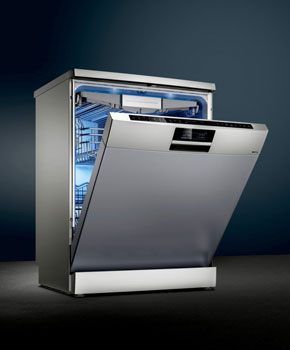 Siemens Dishwashers are packed full of useful features, when choosing your new dishwasher look out for the following. VarioSpeed Plus button, when you press this button you reduce the regular washing time by up to 66 %*. The reduced time is immediately shown in the remaining time display. As a result, your dishes are always sparkling clean and dry within the shortest time.
Zeolith Technology that's unique worldwide, your dishes are dried very efficiently. Zeolith is a natural mineral that is capable of absorbing moisture due to its special surface and converting it to thermal energy. The mineral then emits this energy, thus drying your dishes quickly and energy-efficiently. This minimises your energy consumption and gives the dishwasher an A+++ energy rating.
Siemens dishwashers with varioFlex and varioFlex Plus racks give maximum loading flexibility from the practical tines that can be flipped up as needed to protect the dishes. And the levels that can be folded and divided as you wish. They offer additional space for small dishes and can also be used to support tall glasses.