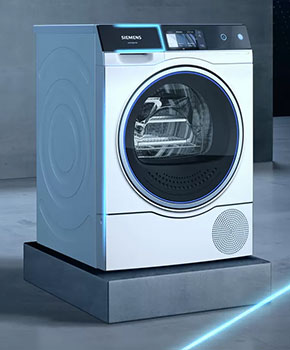 The least energy efficient way of drying your clothes is with a vented dryer as they simply expel all that expensive heat into the garden. A condenser dryer is a bit better as at least the heat is expelled into your home, but for real energy efficiency you need a Siemens Heat Pump Dryer that extracts the heat from the exhaust air and uses it to heat to fresh incoming air, the whole process is monitored by a special temperature sensor that guarantees the highest performance and best results. The energy used to dry the laundry does not leave the system but is continually reused, which makes it extremely energy-efficient and cheap to run.
Self-Cleaning Condenser - During each drying cycle, the condenser is cleaned with condensation water produced by the laundry, automatically, thoroughly and even several times. This help to ensure maximum energy efficiency of the dryer
For delicate clothes that can't be washed but need refreshing to get rid of odours Siemens have another solution. The innovative Refresh programme for heat pump dryers. Simply put the article of clothing in the dryer, select the suitable refresh programme – and unpleasant odours are actively removed via steam.