Miele Ovens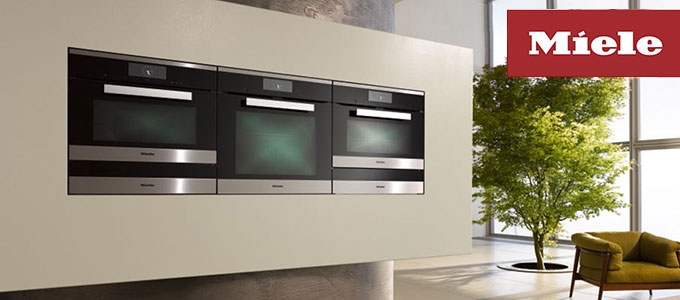 Miele built-in ovens harmonise perfectly with each other to give you a beautiful finish to your kitchen. All Miele ovens are manufactured in Germany with unrivalled build quality. If you need help choosing your new Miele oven call into one of our Oxfordshire stores or phone Oxford (01865) 372113 for expert advice. Listed below are some unique features of Miele ovens
Automatic Programmes - With electronically regulated programmes for over 100 international dishes, you can cook and bake cakes, bread, meat, etc. to perfection.
Wireless Food Probe - No supervision needed: The countdown indicator tells you exactly when the meat, fish or poultry will be ready.
Moisture Plus – by using a burst of steam perfect baking and roasting results can be achieved with moisture through the combination of different operating modes.
Special Applications – are programmes designed to give you perfect results by using the optimum temperature and humidity for example proving dough or drying fruit.
Touch2Open - turns cooking into an experience while delivering the perfect solution for handleless kitchen designs
Wireless food probe - Everything Cooker Perfectly
Customised and precise roasting of meat, fish and poultry by monitoring the core temperature incl. and the countdown indicator. With a countdown indicator there is no need to supervise the cooking process. The food probe is very easy to use. It is always to hand, It is always at hand, as it is stored in the oven door.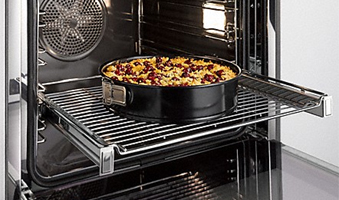 FlexiClip fully telescopic runners
The fully telescopic runners allow easy removal of baking trays, racks and gourmet oven dishes from the cooking compartment and hold them securely in position. You can comfortably baste a roast or turn food over without the risk of burning yourself on the hot oven interior. Versatile use at every level.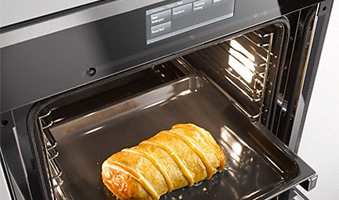 Special automatic programmes
In addition to a wide range of automatic programmes, Miele also offers automatic programmes for five popular international dishes. So you can bake almond macaroons and sponge cakes perfectly every time - So you can cook Yorkshire pudding or a complicated Beef Wellington perfectly every time - with guaranteed success!