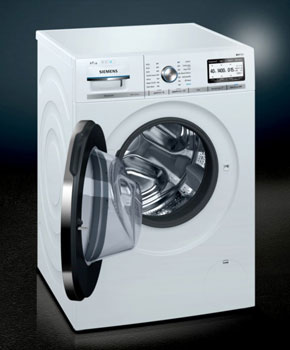 Siemens washing machines combine innovative technologies and functions with attractive design and intuitive operation to give you class leading washing machines. Washing laundry is made easier through the use of intelligent, sensor-regulated System.
Siemens make a wide choice of washing machines so there is a model to suite every taste. When choosing your Siemens washing machine look out for some of these features. – iDos was the world's first precision dispensing system for washing machines. It eliminates a crucial question when doing laundry: How much detergent does the laundry need? The machine calculates everything for you preventing over dosing.
SpeedPerfect automatically detects, where time can be saved. With the 'flow sensor' and the 'load sensor Plus', the machine detects load volume and kind of textile and adapts the washing process time-efficiently to the specific load with time saving of up to 65%.
The Stain Removal system in selected washing machines removes up to 16 of the most stubborn stains. You select the corresponding stain on the display, and the appliance automatically adjusts certain settings to optimise the wash
Thanks to the new SensoFresh Programme on selected models you can eliminate odours without using water or detergent using Active Oxygen. Even for sensitive dry-clean only clothes or textiles that aren't meant to be washed can be refreshed.