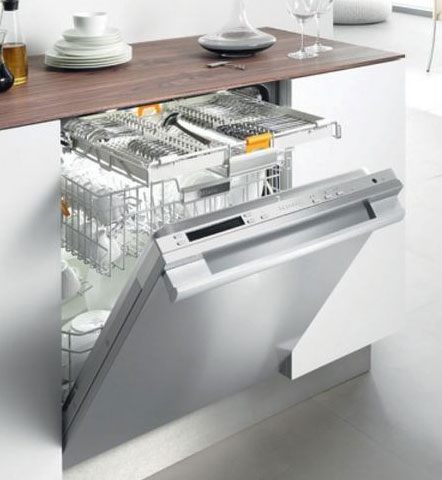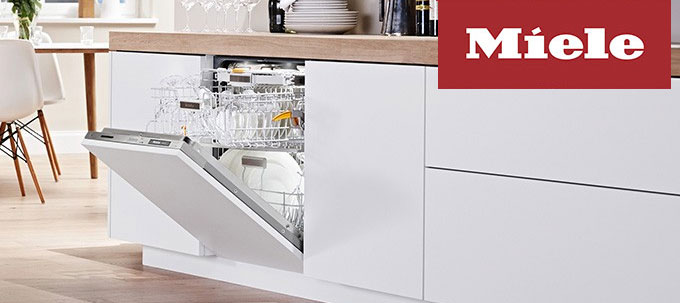 Miele dishwashers come in two different widths 45cm wide and 60cm wide. The height & depth of freestanding dishwashers is standard although there is variation in height on some integrated dishwashers which are described as XXL. Miele dishwashers have a number of patented features which sets them head & shoulders above the competition. 
which allows even for bulky utensils to be placed in the top tray. The height, width and depth of the patented cutlery tray can be adjusted. Auto Open Door drying is a Miele patented feature whereby the dishwasher door will automatically open at the end of the cycle to allow the steam to escape and speed up the drying time. Knock2open turns dishwashing into a magical experience while delivering the perfect solution for handleless kitchen designs. After knocking twice on the front panel of the fully integrated Miele dishwasher, the door opens by about 10 cm completely on its own using an ingenious opening mechanism
Why not call into one of our Oxfordshire stores in Oxford & Bicester for expert advice on choosing the right Miele dishwasher for you. We also offer a full installation service and disposal of your old appliance plus FREE DELIVERY throughout England & Wales. To compliment your dishwasher we also sell a full range of matching kitchen appliances.
---
---
The most economical Miele dishwasher ever


Miele dishwashers only use fresh mains water. The Automatic programme has a 6.5 litre water consumption - significantly less than filling your kitchen sink. With this feature Miele has reduced water consumption by 85% over the last 30 years. Electricity consumption is also reduced to new all-time lows: In the ECO programme, Miele dishwashers achieve energy consumption values of only 0.83 kW

The best care for your glasses


Soft water will clean crockery throroughly but has an aggressive effect on glass. To counter this, Miele dishwashers feature Perfect GlassCare technology. It ensures that your glasses are washed gently - so you can enjoy then for many years.
For Perfectly Dry Crockery
At the end of the programme the door of the dishwasher opens automatically and leaves a small gap. This allows fresh air to reach the crockery and even washed items like plastic dishes dry completely. Your worktop is protected from moisture by special air ducts.